So much more than a number
Think of the Impact
Be a part of the team supporting the college dreams of 100 young women in the fall of 2022!
This is not just a goal with a nice round number. These are 100 students, currently living in orphanages right now, all with untapped talent and potential.
What we're looking for is champions who want big impact!
Whether you choose one, five or ten students to support, you will be creating something more than just another college student. You will be leaving a legacy that will impact the world long after graduation day has come and gone.
Bronze Level
Sponsor One Student
Silver Level
Sponsor Five Students
Think of the number of people these five women will impact over the course of their lives. Be their spark.
Gold Level
Sponsor Ten Students
Ten educated women will change their families and their communities. If you have the means, dive in here.
Commitment is Critical
Most university degrees where we operate are 3 years, so we're asking for a 3-year commitment.
On average, degrees costs $3,500 per year with a extra $500 per student to purchase laptops in Year One.

Frequently Asked Questions
Everything you need to know about the Teach Her 100 Program
How will my money be used?
100% of your Teach Her 100 contributions will be used for your student's education. When your students are assigned to you, your money will be used exclusively for them.
What if I can't sponsor an entire student's education? Can I sponsor half?
Sure. The cost for a half sponsorship is $2000 in year one and $1750 for years two and three. Find a friend to match this and sponsor a student together. You'll both get updates and share the experience.
Can I make a one-time donation to this campaign?
You certainly can. If possible, we do ask that you commit to the same amount for three years to help stabilize your student's educational funding.
What fees are covered in my sponsorship?
Stated university fees will cover everything: tuition, room and board, uniforms, supplies, exam fees, field trips, transportation and $30/month spending money. We also include $500 per student in Year One to purchase a laptop computer.
After the students are in school, how are they being supported?
College is a big step for many of these young women and they often need help navigating this new world.
Thanks to a generous gift from the Michael Simmons Charitable Foundation, the Teach Her 100 students will have a dedicated social worker and support staff member to follow and help guide their college careers.
Can I communicate with my students directly?
All students are over 18 years old and decide what level of communication they are comfortable with. Initially, all communications are handled through a Teach Her representative. But sponsors often write, call and video chat with their students. This is not required on either side of the sponsorship, however.
Does it really cost $3500 per year to attend elite private schools?
Yes, but this number is an average. Each student will have a unique study path at a specific price. Engineering degrees cost more. English degrees cost less. Any remaining funds will be used to offer more students the opportunity to attend college
What do sponsors receive?
For your support, you'll receive semester updates twice a year from your students, along with two updates from Teach Her about progress, triumphs and life-changing stories from the field.

Most of all, you'll be changing the future for every student you help. The chance to study in college is not something these young women expect, so your gift will be nothing short of a miracle.
How do I get started?
Simply fill out the form at the end of this page and a Teach Her representative will get right back with you. Thanks for your interest. Let's change the future for these young women together!
If you have questions, feel free to call us at 207-332-6349 or email sponsor@teachher.org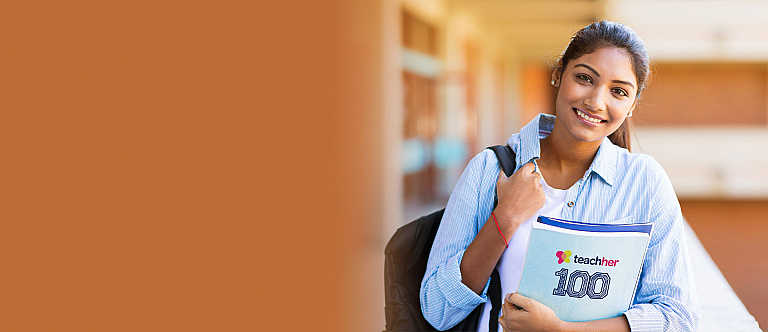 Let's Connect
Fill in the form below and join the team. Or introduce us to someone who might be interested.
These young women are waiting for a chance to shine.
Together we can give them that chance.

Welcome to the Teach Her 100 Team
To get started, please fill out the form below and a Teach Her representative will reach back soon. Thanks for caring.